Since the start of the COVID-19 pandemic, Total Testing Solutions has been providing accessibility to a range of Covid testing services for both insured and uninsured individuals alike. We have partnered with multiple CLIA Certified laboratories to ensure that our patients receive the most accurate test results possible with the fastest turnaround time in the industry. Patients can now have access to lab results in as little as 24 to 72 hours.
Insured Patients
For patients with an insurance policy, we will bill the insurance carrier directly. It is important to check with your insurance carrier to understand your coverage when it comes to COVID testing. If you are not covered or your insurance rejects the claim, you will be responsible for an out of pocket maximum of $50.
Covid Tests for Uninsured Patients
If you are uninsured, we will bill through our CARES account and you will not receive a bill. A valid form of identification such as a driver's license or social security card is needed for the uninsured.
We value your privacy. This information will not be used for any other purpose than allowing Total Testing Solutions to access our CARES account on the uninsured person's behalf to cover the full COVID-19 test cost with no out-of-pocket expense to you.
COVID Testing Locations in Los Angeles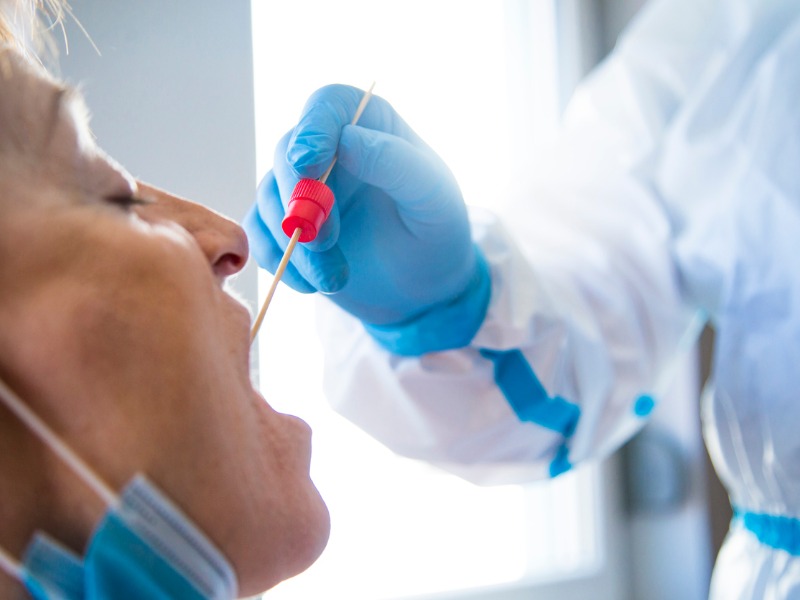 Total Testing Solutions has clinics conveniently located throughout the Los Angeles region, including Downtown LA, and East LA.
For maximum convenience and patient privacy, drive-thru test sites make getting a COVID test even easier.
Results
We offer both nasal and oral swab testing for COVID-19. All tests at Total Testing Solutions are EUA-authorized in compliance with guidelines set forth by the Center for Disease Control.
At Total Testing Solutions, our licensed and trained medical professionals collect samples from the patient in accordance with the CDC protocol. Our highly trained staff is knowledgeable on proper sample collection to ensure the sample does not get contaminated, thereby allowing our patients to have the most accurate diagnosis possible.
Patient Safety Is Our Top Priority
We have put into place numerous efforts to maintain on-site cleanliness. This is necessary to protect the health of patients, staff, and the community at large.
This ensures our patients have access to quality care without fear of contamination or exposure as they undergo a COVID-19 test. To better help fight off the chances of spread, we have launched our new telemedicine appointments and drive thru COVID tests. Telemedicine appointments are available immediately so that you can still immediately receive the non-acute care you need without fear of being exposed to COVID-19.