Why Use Total Testing Solutions?
Covid Testing and Health Services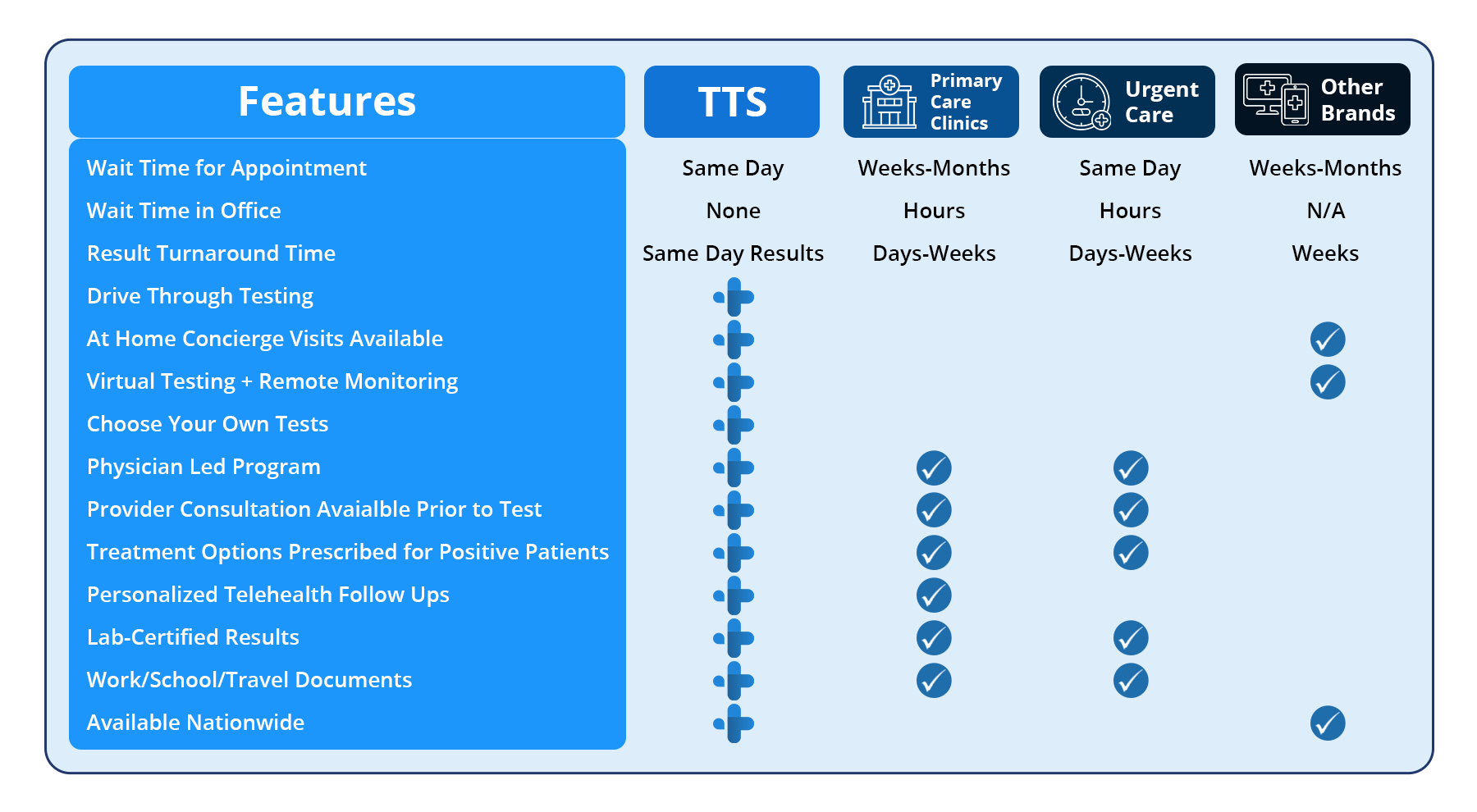 Unlike our competitors, we are partnered with a medical practice and multiple CLIA Certified labs to allow us the ability to provide both medical care and testing to our clients. We are accustomed to concierge service and organization on a macro and micro level. We work with large and small businesses and provide quick turnaround of results from EUA-authorized labs.
Large Menu Medical Tests Available
Telehealth consultations available
Work notes and results delivered securely and quickly
Customer service focused
Mobile, at-home and local testing modes available
Create custom and concierge testing available immediately at local testing sites
Provide option of on-site testing for larger groups
Provide at home testing options for all employees or positive cases
Telehealth consultation and treatment available to all patients
Test results delivered to both employees and employers
rt-PCR testing via Nasopharyngeal, nasal, oral and salivary methods with rapid turnaround time.
Unique account manager for your organization to help coordinate care of employees
Book Appointment
With the ever changing COVID-19 landscape, we are proud to expand its testing to individuals, concierge services, and business testing solutions.
Social Media
Testimonials
"The drive through testing was easy to schedule, fast and convenient. The technician who took swab samples from us was personable and gentle which was very much appreciated. The test results were available within a few days from having the samples taken and we were also called with the results. Overall, it was a much better experience than anticipated."
"I wanted to get a Covid test for me and my two teenage daughters. I came across Total Testing Solutions and I'm glad I did. The appointment process was quick and easy, just went online and found an appointment the same day. Easy peasy!!"
"I scheduled via phone, I had a consultation with Brian, he was quick and to the point. His assistant sent me my appointment the same day. I went to the Downtown location on James M. Wood. The whole process was quick. I was approached by the tester. She got my info then did my test. No pain. Quick and easy. I got my results in like 3 days via their portal. I would recommend this place for your covid tests."
"I went to TTS for drive-thru Covid-19 testing. Very organized process from beginning to end. The appointment was ready to make online. The intake call was ready and professional. The location was easy to find. Once I arrived onsite, I didn't have to wait long and the staff was very kind and professional. I paid for super fast test results and they were delivered in less than 24 hours. I received a call, text and email once my results were available. The patient portal was also easy to use. I hope I don't have to, but I would go back to them for service."
Insurance & Financing
Individual
Total Testing Solutions is proud to offer a wide range of COVID testing services for individuals! Since the recent federal funding update on March 23rd, 2022, we now offer insurance based testing as well as cash testing options for those who are uninsured. For patients testing through insurance, so long as your insurance carrier covers COVID-19 testing at our facility there will be no out of pocket costs, copays or deductibles.
Business
For one-time or first-time testing, we are able to offer PCR COVID19 testing through an employee's insurance plan. Since the passage of the FFCRA on 3/18/20, all forms of private, public and self-funded insurance plans are obligated to cover the cost of PCR COVID19 testing. This coverage does have a limit, meaning recurring testing will not be covered by an employees insurance plan.
Total Testing Solutions
We are a Los Angeles based company dedicated to providing access to COVID testing for local businesses both big and small.